Disused Underground Stations
What is a disused station?
I hope nobody is surprised that in a system that is over a century and a half old there are some facilities that have become redundant: amongst these are included some Underground stations.
There are many reasons why certain Underground stations have become disused in whole or in part. Some were built in places that were unsuitable at the time, or have been found so later. Some have been replaced by better facilities nearby. A few are on lines that have been closed altogether. More usually only parts of stations are closed. The most common reason certain parts only are closed is where escalators have replaced lifts. Since lifts travel vertically and escalators at a slant it follows that where the second replaces the first either the building at the top may have to move or long passages have to be built at the bottom to plug the new work into an existing platform. Either way, old parts of the station are likely to be taken out of passenger use.
What is left?
What remains when facilities are closed or replaced depends on a number of factors. Readers may be aware already that at least half the 'Underground' is in the open air, and even below-ground stations often have a station building at street level. Where stations or parts of stations are closed that are in the open air, the test is whether or not the old facility either has a further use or is too awkward or expensive to demolish. If something is a maintenance liability, has no further use or occupies land that can be disposed of for profit then it might be demolished and leave no trace at all. Such a fate awaited stations such as Park Royal & Twyford Abbey, South Acton & White City.
The most likely use for a proper 'underground' station at street level is to maintain some useful facility such as ventilation fans and ducts, substations or access to the below-ground areas. This did not necessarily preclude some kind of commercial exploitation as well. Such stations include South Kentish Town and Down Street.
There are then stations where for some reason the station buildings are retained but platforms have been closed, such as Charing Cross (Jubilee Line) where trains have been diverted along a new railways, leaving the old platforms useable but bereft of passengers.
It will I suppose be obvious that at a truly Underground station disused passages and tunnels are likely to remain relatively undisturbed once taken out of use since there is no useful purpose in filling in a hole that is in nobody's way. For this reason many underground station that are still open contain disused parts. Many are converted into ventilation ducts, cable tunnels or access tunnels, while some are partitioned into equipment rooms or staff rooms as space below ground is always at a premium.
The Disused Station Map
There is a certain amount of interest in disused stations but I have not found any convenient map or diagram which is both complete and reliable, nor perhaps one convenient to refer to. For this reason I decided to produce one of my own, to which there is a link from this page.
The attached map relates to the system run by London Underground today or which had once been run by its forebears. It excludes lines owned by other railways over which Underground trains ran and which now have no connection with the system.
Because of the difficulty in answering the question 'what is a closed station?' entiries are divided into categories as follows:
1. Stations that are entirely closed, whether there are any remians or not
2. Stations where substantial areas including whole platforms are closed and to which there is now no public access or which have been demolished or removed.
3. Stations where the station building has moved and where platforms have been substantially built on a new site although a minority part of the area of the new platform overlaps part of the area of the old.
4. Stations that ceased to be served by Underground trains but only closed to other trains later.
5. Stations built in whole or in part but not opened.
The diagram does not show stations where surface structures were moved or internal changes were made where platforms were left alone. Nor does it show disused or relocated stations before they became part of the Underground system.
Although the diagram only relates to stations, tracks that are disused are only indicated to show how disused stations or platforms relate to today's railway.
The Drawing
Click on image below to bring up full screen indexed drawing.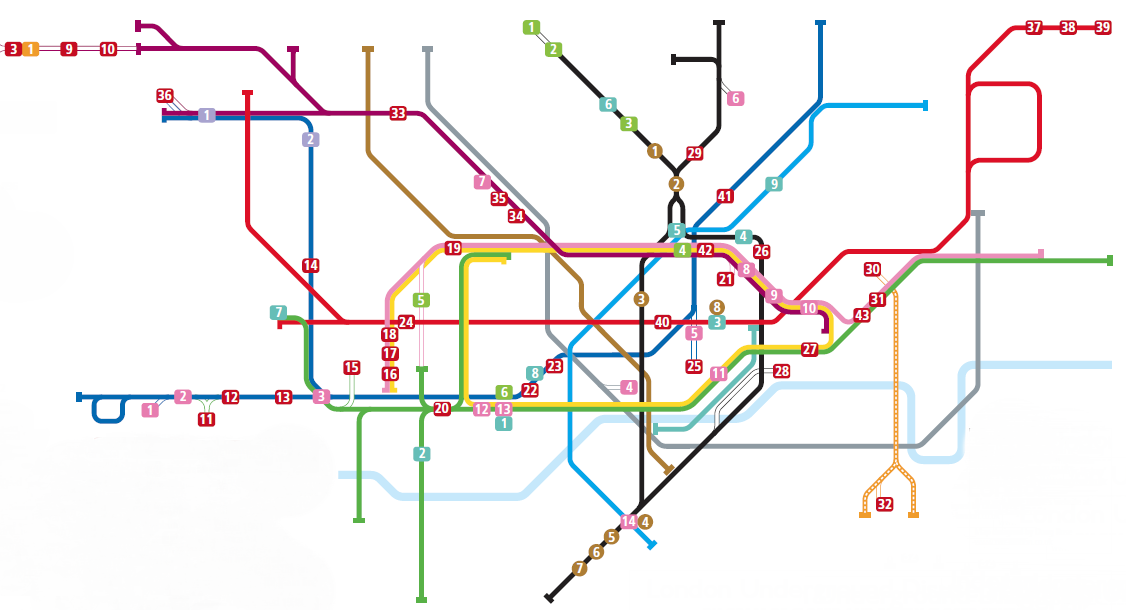 ---
The remains today
At most of the locations on the map there are no significant remains, if any traces exist at all. At some locations there are traces, in a few cases substantial. These are indicated below.

The different colours signify the following:
Red-Station closed
Pink-Station open but incoporates platforms that are closed
Mauve-Station building and most of platform resited
Green-Station built or part built but not opened to public
Orange-Station ceased to be used by the Underground, but only closed later to all traffic
Turquoise-Station open but building replaced and is still in situ.

| Map ref | Name | Location | Notes |
| --- | --- | --- | --- |
| Pink 4 | Charing Cross | At present station, on branch line from Green Park | Platforms and tracks still intact. |
| Pink 5 | Holborn | Disused platform tunnels adjacent to Piccadilly Line (EB) platforms | Former platform tunnels intact, one with track still in it. |
| Pink 6 | Highgate | Disused platform tunnels above present station ticket hall | Platforms intact though much overgrown in parts. |
| Pink 7 | Swiss Cottage | Adjacent to present Jubilee Line station | Former platforms visible between Finchley Road and Baker Street from passing train. |
| Pink 8 & 9 | Moorgate and Barbican | Adjacent to Metropolitan Line | Former platforms alongside Metropolitan Line, located on north side with parts visible. |
| Pink 10 | Liverpool Street | Adjacent to Metropolitan Line | Platform hidden behind westbound false wall. |
| Pink 11, 12, 13 | Mansion House, South Kensington & Gloucester Road | Adjacent to District Line | Disused platforms visible |
| Pink 14 | Stockwell | North of existing platforms | Former station tunnel visible from passing train. |
| Red 11 | Hounslow Town | Hounslow High Street | Nothing left of station but formation of junction visible from train east of Hounslow East next to substation. |
| Red 12 | Osterley & Spring Grove | Thornbury Road | Platforms and former station building substantially intact |
| Red 22 | Brompton Road | Cottage Place | Disused platform tunnels visible from train between South Kensington and Knightsbridge. Station facade remains at street level. |
| Red 23 | Down Street | Down Street | Disused platform tunnels visible from train between Hyde Park Corner and Green Park. Station facade remains at street level. |
| Red 25 | Aldwych | Strand | Entire station intact |
| Red 26 | City Road | City Road | Disused platform tunnels visible from train between Angel and Old Street. |
| Red 27 | Tower Hill | Mark Lane | Eastbound platform visible between Monument and Tower Hill (present stn). |
| Red 28 | King William Street | King William Street | Most of former platform and approach tunnels remain. |
| Red 29 | South Kentish Town | Kentish Town Road | Disused platform tunnels visible from train between Hyde Park Corner and Green Park. Station facade remains at street level. |
| Red 30 | Shoreditch | Pedley Street | Station building remains |
| Red 31 | St Marys | Whitechapel High St | Disused platform tunnels visible from train between Whitechapel and Aldgate East |
| Red 34 | Lords | Park Road | Disused platform tunnels visible from train between Finchley Road and Baker Street |
| Red 35 | Marlborough Rd | Wellington Road | Disused platform tunnels visible from train between Finchley Road and Baker Street. Station building largely intact. |
| Red 37-38-39 | Ongar, North Weald and Blake Hall | Disused railway east of Epping | Now functions as a heritage Railway |
| Red 40 | British Museum | New Oxford Street | Disused platform tunnels visible from train between Tottenham Court Road and Holborn |
| Red 41 | York Road | York Way | Disused platform tunnels visible from train between Kings X and Caledonian Road. |
| Red 42 | Kings X | Kings Cross Bridge | Remains of former westbound platform visible from train between Farringdon and Kings X |
| Orange 1 | Quainton Road | On freight line north of Aylesbury | Station largely intact as part of heritage operation. |
| Green 3 | North End | Hampstead Way | Unused platform tunnels visible from train between Hampstead and Golders Green |
| Green 4 | Kings X | Metropolitan platforms | Short section of unopened platforms remain at far west end. |
| Mauve 2 | South Harrow | South Hill Avenue | Former station building and long section of disused platforms remain. |